Decks and patios can quickly become caked with dust, dirt, and other kinds of debris, giving them the appearance of being unclean, or unkempt — in other words, it doesn't look like the relaxation spot for you and your guests it once did. After a certain point, no amount of sweeping, or mopping with soap and hot water, will effectively remove all of the grime that has accumulated. When that point of no return hits, you need to look to pressure washing.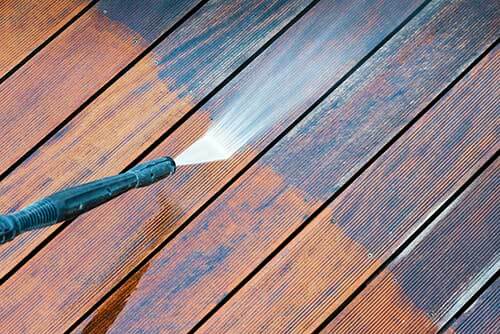 Do you need a pro?
Pressure washing quickly and easily reverses weeks, months, or even years of neglect to decks and patios. Our Proscape professionals handle all of the dirty work, giving you time to focus on other issues such as work deadlines, family matters, or just a bit of relaxation to unwind.
For homes in the South Bay area, pressure washing is a must if you want to spend any time on your deck, or patio, be it alone, or (especially) with guests so you can be the top host. For businesses, it's imperative to pressure wash any common area patios to give guests, clients, and customers a feeling of care.
Why you need Proscape for pressure washing in the South Bay
If you do a quick search on the internet, you'll be inundated with guides to DIY pressure wash your deck and/or patio. They'll tell you how easy it is and that you can be done in a flash. The trouble with pressure washing in the South Bay is that the surfaces on your deck and/or patio are easily susceptible to damage, erosion, and deterioration. An untrained and unskilled pressure-washing project can be the difference between a dirty deck, and a ruined one.
Leave the pressure washing to professionals in the South Bay. Our Proscape pressure washing team knows how to clean every deck and patio surface effectively, efficiently, quickly, and without a hint of damage. Trust our experts to rejuvenate your outdoor spaces rather than risking thousands in repair and refinishing costs.
Contact us today for more information and to set up your pressure washing consultation.