Hardscapes are often overlooked, or taken for granted, by many home and business owners. After all, a driveway is just a driveway; stairs are just stairs. Right? If you haven't seen what professionally designed hardscapes in Santa Monica and West LA can look like when properly installed, you're missing out on an integral component to Los Angeles landscapes. Our hardscape designers and developers at Proscape have years of industry experience creating breathtaking pathways of brick, stone, and more to walk you through your green-filled landscapes. A simple path from your driveway to your door, when designed by one of our hardscape architects, changes the way your home looks and feels instantly. New and/or newly remodeled walkways, pathways, and driveways are also an easy and effective way to add curb appeal and value to your home, or business. But hardscapes aren't all steps and stones.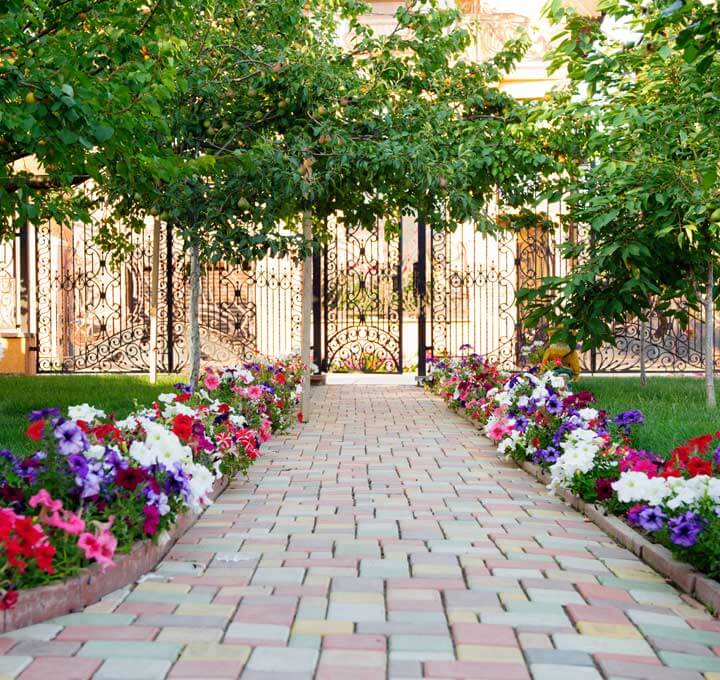 Have you been thinking of adding a patio to your yard? Not only do patios add a new place to sit and relax, they immensely increase your property value. Maybe you've been considering adding a fire pit to sit by on cool evenings, drink in hand as you unwind after a long day. Proscape designers work with you to develop the perfect patio or fire pit for your home and budget and our installers work tirelessly to create your vision effectively and efficiently. We use the highest quality materials, such as brick and stones, for every project we undertake to guarantee that they will stand the test of time and not crumble, or deteriorate. If you're considering adding a patio or fire pit to your home, contact us to learn more about our many options for materials and finishes to complement your home, or business.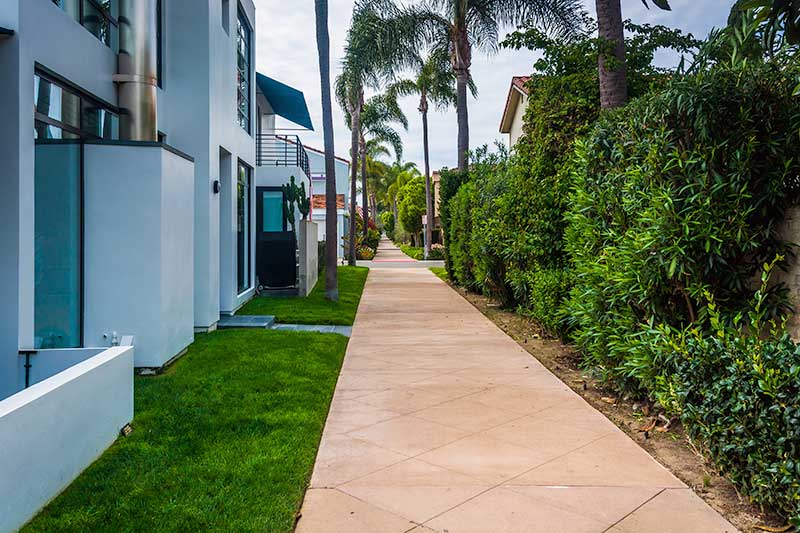 Monthly and bi-weekly hardscape blowing in the South Bay
We offer monthly hardscape blowing to keep any thatch, dust, and debris from cluttering up your property. Our Proscape professionals come by, and within a flash, tidy and clean up your hardscape to be the perfect accent pieces to your landscape and make walking to and from your door easy. For homes that seem to accumulate debris more quickly, we also offer bi-weekly hardscape blowing in Marina del Rey, Playa del Rey, El Segundo, Inglewood, Westchester, Hawthorne, Manhattan Beach, Hermosa Beach, Redondo Beach, Torrance, and Palos Verdes so that you always have a debris-free walkway and tidy steps into your home.
Why do you need expert hardscape installation in the South Bay?
If you go online, you're sure to find dozens, if not hundreds, of Pinterest, blog, and YouTube guides to installing your own pathways, patios, fire pits, and more. It seems easy enough when you watch someone else do it, or read about how to do it, but unless you're trained in construction, home design, and/or installation, you'll quickly find that it's much more difficult than it seems. You need precision stone laying and mortar work, as well as high quality materials – all things that come with years of experience, knowledge and skill. At Proscape, we focus on quality and our expertise speaks for itself. We make the job easy for you: sit back, relax, and let us handle all of the difficult details – this is what we do, it's easy for us. DIY home renovation projects can quickly become time consuming and costly due to wrong measurements, incorrect materials, and installation errors. We mitigate that by having a team of experts to get the job done quick and right the first time. Don't run the risk of blowing your budget and not having the walkways, patio, retainer walls, and/or fire pit you planned for, call us to handle all of your hardscape design and installation projects in the South Bay.
Call or contact us today for more information and a consultation for your next hardscape project. We'll be happy to help and get you started with one of our architects.