Over time, sprinkler systems may experience leaks and performance issues, meaning that your lawn and plants will suffer as they don't receive the water they need to grow; you may also see higher water bills as excess waste water disperses through the soil underground, or evaporates after sitting in pools due to the malfunctioning sprinkler head. In order to keep your lawn looking beautiful os your neighbors are envious and keeping your water bill at a reasonable level and not bankrupting you, you may need sprinkler repair in the South Bay. That's why you need our expert team at Proscape to come by, assess the situation, and complete repairs fast and effectively.
If your sprinkler isn't watering your lawn with the proper pressure, you may have a blockage and/or leak in the line starting at your water main and ending at the sprinkler head. You'll need a South Bay sprinkler repair team to come and investigate your system for you.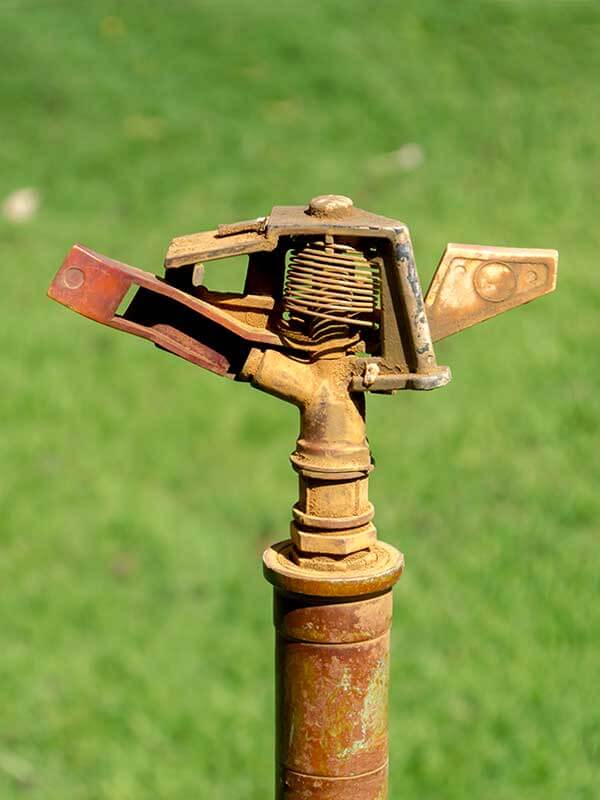 How can things go wrong?
The main reason that sprinkler systems fail is due to degradation over time. If you purchased an older home with an existing sprinkler system, you don't know when things could go wrong and you could spring a leak. New home and/or West LA sprinkler system owners may experience water pressure, blockage, or leak issues as well if the contractor didn't install the system correctly, or if they didn't use quality pieces, parts, and fittings to ensure longevity. Our South Bay area sprinkler installations are done by professionals with years of experience, knowledge, and expertise using high quality products so that you don't need to worry.
Here are a few ways in which your sprinkler system could fail and need sprinkler repair:
Pipes crack: Whether it's due to cheap materials, materials deteriorating over time due to use, the pipes can crack, leaking water throughout your property and not properly watering your lawn and garden.
Fittings loosen: Water pressure can cause fittings to loosen, meaning water can seep out, or pipes can become disconnected and water will never reach the sprinkler head.
Water main issues: Your water main may not be functioning properly and the right water pressure may never reach your sprinkler system, meaning your lawn will suffer.
Faulty sprinkler heads: Maybe you accidentally tripped over it, or ran it over with a lawnmower, or a previous homeowner did. Maybe the inner pieces have finally given out over time. Regardless of the reason, our team will investigate and repair it.
Roots and debris clog the pipes: If you have more invasive plant life, roots and debris could get into the pipes and clog the pipes so that water will never reach the sprinkler head. This can cause pressure buildups near the water main, meaning massive repair bills as it can damage your home.
Proscape can get your sprinklers back up and running again
If your sprinkler system isn't working as it should, you may need sprinkler maintenance and repair in  Marina del Rey, Playa del Rey, El Segundo, Inglewood, Westchester, Hawthorne, Manhattan Beach, Hermosa Beach, Redondo Beach, Torrance, and Palos Verdes. Contact us for a consultation and to learn more abut our knowledge and expertise to repair your sprinkler system in the South Bay.