The dry and hot Southern California climate can create a lot of dust, debris, and pollen that is whisked around by the wind and drives itself against your home. Over the course of mere weeks, this builds up in layers and makes the exterior of your home look dirty, detracting from its visual appeal, beauty, investment value, and structural stability. If you want your home to look brand new again like that modern house being developed around the block from you, all it takes is a quick call to our experts at Proscape to set up your pressure washing appointment.
Our team at Proscape has been servicing homes with pressure washing in Santa Monica, Venice, El Segundo, and Huntington Beach for years to instantly rejuvenate their exteriors to improve visual appeal and increase value. It's easy to not notice debris building up on your home's exterior, it (usually) doesn't happen overnight; day after day you come and go, looking on your home as you always do. But one day, you notice that it doesn't quite look the way it used to. Maybe you notice some structural deterioration due to dust and sand exposure. The good news is it's all reversible when you choose to contact Proscape for all of your West LA pressure washing needs.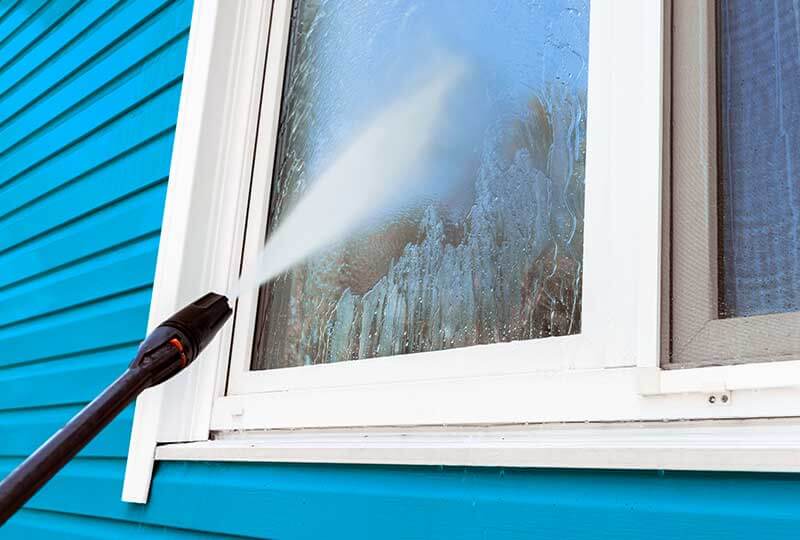 Why does my home need pressure washing in Los Angeles?
There are plenty of unwanted and harmful materials that can accumulate on your home's exterior, making it appear older, dirtier, and uncared for, including:
Dirt: The Los Angeles wind kicks up tired out soil from nearby homes and parks and pummels it against your home.
Dust: A combination of organic and inorganic matter mixes with dirt in the air and accumulates on your house.
Debris: Rocks, sand, and bits of litter mix together with the dust and dirt to create a gritty and harmful layer for your home's exterior.
Pollen: If you've left your car out overnight, you know the amount of pollen that can accumulate; that's also on your home.
Mold: Spores can grow in one location and be carried by the wind to your home to feed off of the pollen.
Pressure washing is a quick, safe, and easy way to get all of that gunk off of your home to protect the exterior to continue providing safety and structural support for you and your family.
Why you should choose Proscape for pressure washing in West LA
There are a number of pressure washing options available to you as a homeowner for DIY cleaning projects to give your home a quick bath and makeover, but what most of these options don't tell you is that certain materials used for home exteriors are susceptible to deterioration, erosion, and various forms of other damage when pressure washing isn't done correctly.
You need professional pressure washing in Los Angeles to avoid causing harm to your home, which could cost you thousands in repairs. Our expert pressure washing team at Proscape has years of industry knowledge, skill, and experience to properly apply pressure washing to your Santa Monica or Venice home to remove debris without damaging any surface material. We know how to protect your investment to reverse weeks, months, or years of neglect to improve visual/curb appeal, increase your home's overall value, stand proudly against new and modern home construction projects, and make your neighbors greener-than-your-lawn with envy.
Contact us today to set up a consultation for pressure washing your Santa Monica, Venice, El Segundo, or Huntington Beach home.