It takes a keen eye to transform a plot of land into a rolling and eye catching landscape filled with rich hues of greens, reds, oranges, and more. Our team has years of experience in creating attractive and appealing landscapes for homes and businesses to increase property values and wow guests. In addition to their beauty, our West Los Angeles and Huntington Beach landscape designs are planned and created with resilience in mind to withstand the beating Southern California sun and limited rainfall.
With water conservation and drought in mind, we select grasses, shrubbery, and trees that survive in our hot and dry climate so that you don't need to constantly worry about watering your lawn multiple times a day; in some cases, you may not need to water your lawn every day.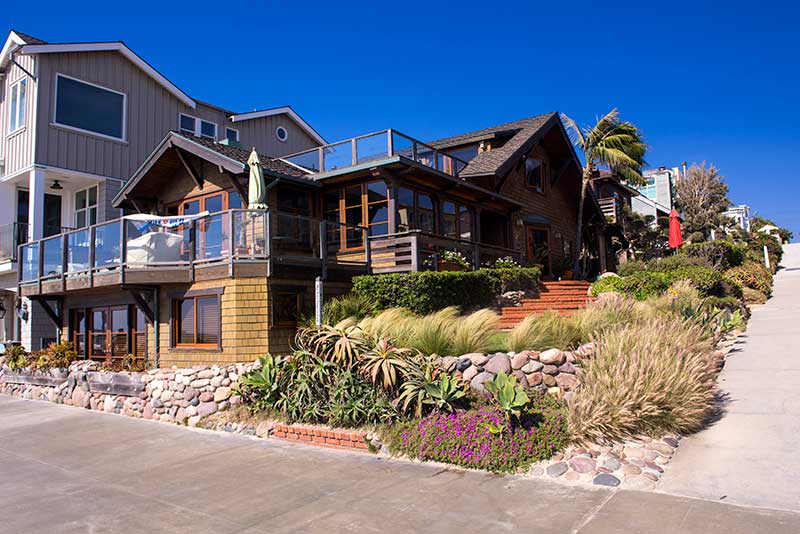 Through easily to follow guides, or studying your soil alongside you, we can help you determine the right watering amounts and schedules so that your newly designed and developed Los Angeles landscape thrives without making your water bill skyrocket. Our designs focus on water conservation so that your soil retains moisture and can deliver the necessary nutrients to the roots and seeds of your grass, shrubs, and trees to promote full, lush, and healthy growth.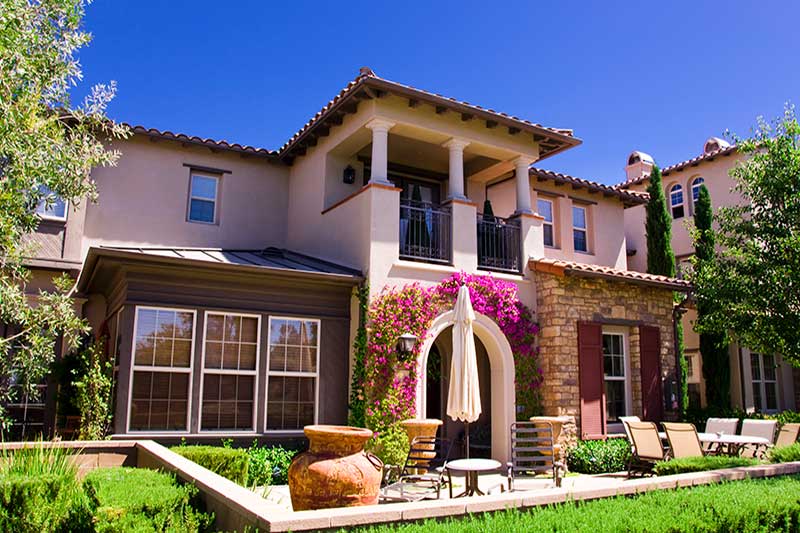 A Keen Eye for Landscape
We craft and tailor customized landscapes for your home, or commercial, layout to accentuate your unique property and create subtle, or striking, works of living art that are sure to make your neighbors stare in wonder. We specialize in seeding, planting trees and bushes, and floral design as well to meld with the land, pools, fountains, and more. Our team of landscape designers and developers in Santa Monica, El Segundo, Venice, and Huntington Beach have the knowledge, experience, and expertise to make your property dreams a reality.
We also offer maintenance packages and to take all stress and worries away from you as we come and check the soil's health, the grass and plant life to ensure it flourishes, to cut and trim so it always looks magazine cover ready, and fertilize if needed – all while you focus on your home's interior, or your business demands, while enjoying your beautifully renovated yard and property. Our maintenance team offers weed control services so that no invasive growth comes in to steal nutrients away from your rich lawn and greenery.
Another added bonus to a new landscape is the improvement of air quality as the plants pump out fresh oxygen so you can breathe deeper without fear of common air contaminants.
Easy Work of Hardscapes
Each hardscape design in Santa Monica to Huntington beach is made with your satisfaction and budget in mind so that your property value goes up without costs draining your wallet. Thanks to our superior quality and craftsmanship, your home and/or business will have a hardscape that won't crumble and become dilapidated, nor will you need to work tirelessly to maintain it. The landscape is only half of the picture as driveways, walkways, patios, fountains, and more stand as centerpieces along your property. Choose from brick, gravel, and a myriad of stones for a durable, long lasting, and beautiful hardscape. Looking to install a retaining wall for your lawn, or garden? Our team is ready to add verticality and visual appeal to your greenery. From simple steps to stunning outdoor kitchens that you, guests, or residents will use, our team is ready to install them promptly and to guarantee your satisfaction.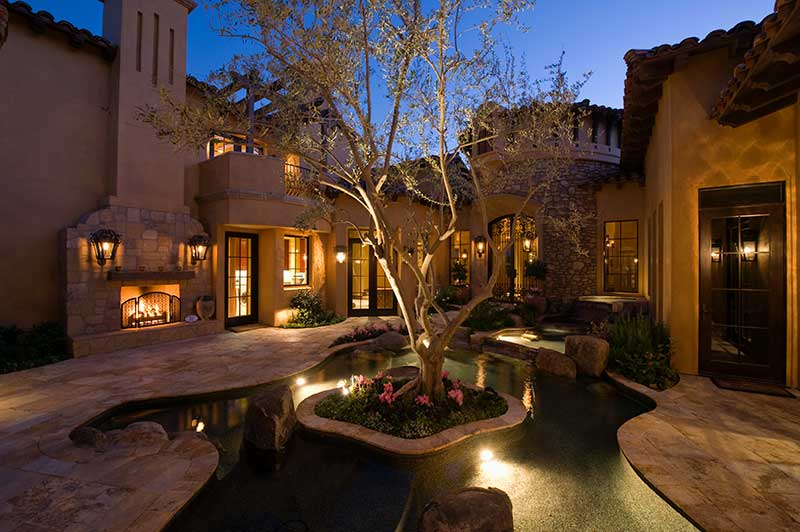 Light the Way
No landscape and hardscape is complete without lighting to accentuate the design and illuminate your path along your property. All lighting installation is up to code and in compliance with California state regulations to ensure safety and performance. The night life will shine just outside your door.
Proscape is a leader in landscape design in West Los Angeles
If you'd like to transform you home or commercial property into a stunning landscape to be the envy of your neighbors, or catch the attention of customers and clients, contact us today for a consultation and prospective design. Our years of experience have transformed homes from Santa Monica to Huntington Beach with the highest quality landscape, hardscape, and lighting designs. Call us today for more information.